Our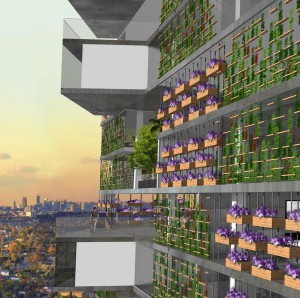 Venice Biennale display takes the commonly understood elements of 'time' – past, present and future.  The exhibit will focus on CEA's recent activities corresponding to these three concepts.
PRESENT: a realised award-winning house Seacliff House FUTURE: a theoretical design for a very tall green apartment building in Sydney PAST: Chris Elliott's involvement in an 'anti-project', the community-based advocacy for the preservation of Waverley Cemetery in Sydney.
FUTURE: Sydney is opening up so-called new priority growth areas in the northwest and southwest of the city. Like many other cities we are destroying pastoral land and wilderness areas and threatening other species in the process. To combat this problem we propose allowing clusters of very tall green buildings (VTGBs) with height limits abolished on transport nodes in the city and suburbs. A theoretical proposal, for the eVolo Skyscraper Competition for ideas for vertical living, is our vision for this future.
PRESENT: While pondering the idea of time and particularly the present – the here and now, like all architects we respond to what we find around us. We present one of our projects, Seacliff House, as an example of our approach. It features a transparent platform, a watery sandstone grotto, a long linear box with light scoops to frame and control views, privacy and sunlight, and a rooftop belvedere.
PAST: Chris Elliott joined a community effort to help fight against the proposed modernisation and insensitive redevelopment of Waverley Cemetery, a beautiful place overlooking the Pacific Ocean in Sydney. The community's efforts have led to the State Heritage listing by the New South Wales Heritage Council.
"We weave these notions about time together with the notions of space and existence. Although our own existence is ephemeral, the continuity of human life through the generations is not. The space that we use and the traces of our brief existence and the things that we fashion with our hands and machines help to give our lives meaning and help us to defy the limits of our human existence," said Chris Elliott.
"Our display looks back and looks forward, as we consider the work of architects – with projects and anti-projects, architecture and anti-architecture – and the impact these have on our planet. How we can house many new urban dwellers without causing harm is an ongoing problem of our existence. But it is one that architects must address."
The GAA-Foundation exhibition, in collaboration with the EUROPEAN CULTURAL CENTRE in Venice, examines TIME – SPACE – EXISTENCE as athe most fundamental themes of mankind:. "Our existence, our position, within time and space. Architecture, of the past and of today, forces us to consider and re-consider and to ponder the infinite."
Some of the high-profile participants in thee 2016 show include Fumihiko Maki, Peter Eisenman, Denise Scott Brown, Fentress Architects and GMP Architekten.
"TIME – SPACE – EXISTENCE" is a part of the Venice Architecture Biennale 2016 and runs from 28 May to 27 November 2016 at Palazzo Bembo, near the Rialto Bridge.
EXHIBITION TITLE Time Space Existence
VENUE Palazzo Bembo (Rialto Bridge)
PREVIEW 26 + 27 May 2016 18.00-22.00 P
PUBLIC OPENING 28 May – 27 November 2016
More information at:
www.palazzobembo.org
www.europeanculturalcentre.eu