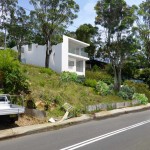 Our design for a new home in Sydney's northern beaches has been approved by Council. The house, for a young couple and their future family, is perched high on an escarpment looking east over the sea. The steep site is surrounded by majestic eucalyptus trees.
A large seamless living space with an entertaining area is at the top floor level, with views from the rear of the site through to the ocean beyond. A staircase occupies an organically curved space with an opening to the sky. A light scoop provides a glimpse of the ocean and ensures privacy from future neighbours.
An investigation into light form and mass. A wonderful place to live, to relax, to entertain and swim and to raise a family.