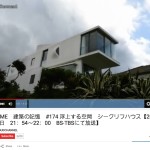 Seacliff House was recently presented to millions of Japanese TV viewers!
Tokyo Broadcasting System, one of the major commercial broadcasters in Japan, showcased our house in a documentary series called "ONE x TIME".
Every week the series introduces a famous/outstanding residential building found in different countries and talks about the architects.
Watch it here: https://www.youtube.com/watch?v=ZKyoYMaQ9sY&list=PLxsTSkr4cUO_mKmSTtvbQwRtVYtC8Hm_7&index=1